so I've been kind of bored lately so I've been making idea boards for friends. Idea boards are things that you would like to buy to pull a room together. You can kind of see it all together and how it would look. The background color is the paint color I recommended. I incorporated things they already had or pieces the definitely wanted and worked around that, and of course, everything I picked was relatively cheap. In fact, most of it was from Target. So I thought I'd share these with you, and maybe you can get some inspiration for your own space.
This room is for someone's office. They already had dark desks and bookcases and that chair you see is something they already had that was to be incorporated. They also already had a futon but were shopping for a new mattress. Here's the breakdown:
futon-
Target
: $188.99 (but that includes the frame)
pillow-
Target
: $24.99 (don't worry, it's new.. it'll go down.)
curtains-
Target
: $17.99-$19.99
vase- Target: $holycrapnevermind... um.. I didn't notice the price on this before... it's really really really overprice so just... ignore that... i am a disgrace to this blog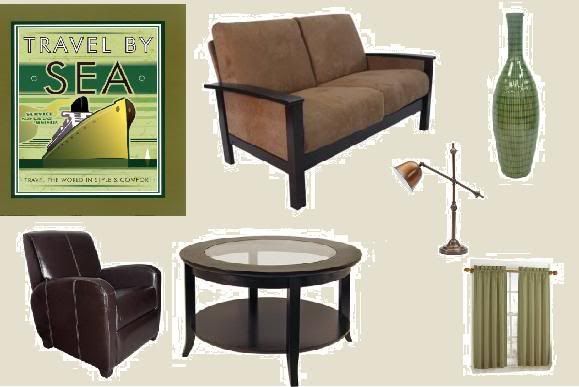 this particular board is for a living room. None of this is pre-existing stuff but the person wanted something to do with travel but still have something warm and inviting and cozy. It was the first room you want into.
Chair-
Target
: $299.99
Artwork-
Allposters.com
: $9.99
Couch-
Target
: $399.99
Vase-
Target
: $29.99
Lamp-
Target
: $165.99 (ew, I don't like that price either.. for a LAMP)
Curtains-
Target
: $31.99-$32.99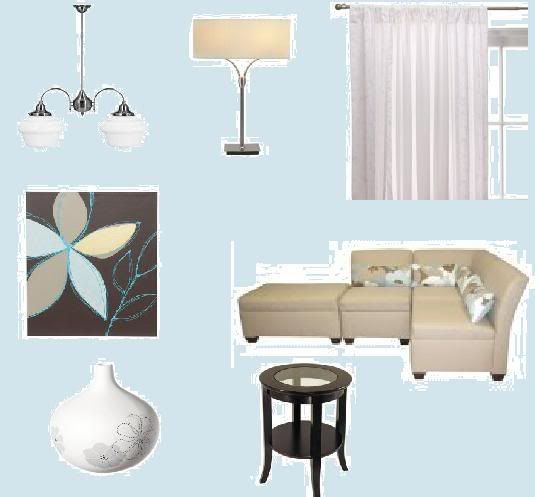 one of my personal favorites. this is for a living room which is open to a kitchen. The hanging light in the left corner is the choice of the person who this board is for for the kitchen.. that was my inspiration for the rest of my design. So here we go:
Table Lamp-
Target
: $119.99
Curtains-
Target
: $29.99-$34.99
Couch-
Target
: $189.99-$319.99
Table-
Target
: $79.99
Vase-
Target
: $7.99 (that's what I'm talkin' about!!)
Art-
Target
: $79.99
okay, there are more but that's all I'm doing for now. To be continued...