I recently got a request to tell where I got my dining chairs from. Lucky for you, I was true to my frugal self (I get it from my dad) and they were also a great buy.
Here is a picture of my set: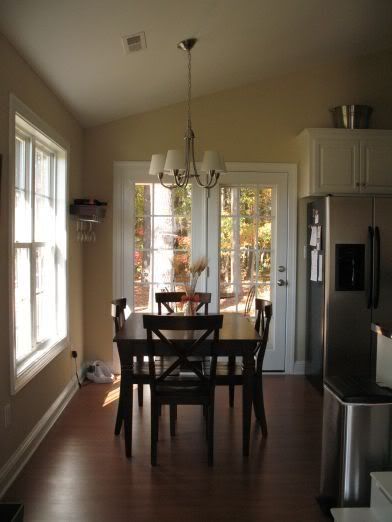 Similar chairs can be found at pottery barn:
These chairs are $199, $269 if you want the arm chair.
Then I found this at JCPenney:
(don't worry, it comes in other colors) for $499.99 for the table ALONE (however it is currently on sale for $249.99) with the chairs being $129.99 (on sale currently for $79.99).
Now is the time for me to tell where mine came from and what I paid for it. Okay, first off, it came as a set. So no chairs sold separately, sorry. Secondly, the entire set was purchased for $150.00. Third, it came from... *drumroll*...
....
k-mart. Yes, K-MART. I could hardly believe it either. Before you snub your nose at k-mart, know that I've had this dining set for three years now, and it has held up BEAUTIFULLY. We still love it just as much as when we got it. It is somewhat on the small side, but it is PERFECT for our small dining space. So if you are looking, take a look at k-mart. My specific set isn't in stock any more, but there are some very similar sets there. The sets currently in stock are way less than the options above, but still slightly more than what I got it for. But hey, then I wouldn't have paid less than you ;)