so a big decorating trend these days have been using letters in your decor. I really liked that trend and picked myself up a B for my last name and display it on some floating shelves.
Here's a picture of my letter: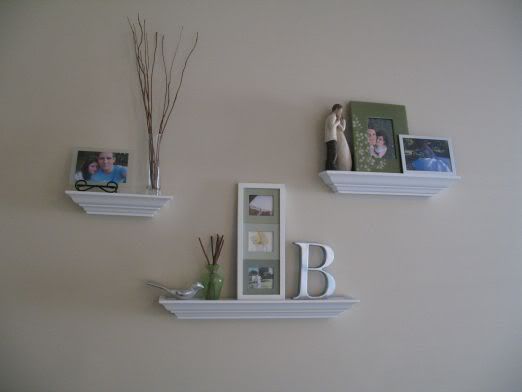 these letters are pretty elusive and hard to find now though. I mentioned before about shopping the end caps at Target and that's where this little guy came from. I can't remember the specific price I paid, but I want to say it was around the $5 range for this one. This was on final clearance. The only other place that you can find similar items right now that I've seen is (surprise surprise) pottery barn.
these letter range from $19-$24. However, there IS a great sale going on right now on them. They are currently $9.99-$14.99. Not a terrible price if you really want one, since they are becoming increasingly harder to find and are no longer available at Target.
I'd have to say that MOST of the things are purchase are on final clearance, and thus extremely hard to find. That makes it hard if you see something you really like on this blog, but there is a valuable lesson to learn in that. Be CONSTANTLY on the look for things you like, and then if you feel you wont die if you lose out, wait. Yes, you MAY miss out, but chances are you are going to get a really great deal.