simple human trashcans have been "in" for a while now. People love them. There are several great features of them, but the one that always appealed to me most was just how great they looked. I really wanted something that would look good and would be stainless steel to match my appliances in my kitchen since it had to sit out in the open because I didn't have any room in any cabinets in my kitchen.
The downside of these simple human trash cans is just how darn expensive they can be. This model:
retails for up to $179.99. Lets face it, not many of us are willing to shell that out for something designed to store your waste.
So wanting that look but not for that price, I set out looking for cheap alternatives. The answer came from my in-laws who said they saw some at Sam's Club. So Matt and I ran over to check it out the day we moved into our house and found a model we could live with. I think it fits in pretty nicely. Here's a picture of ours: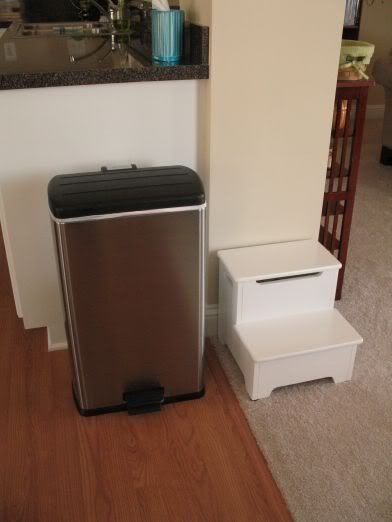 Now our trash can retailed for a little under $50. You tell me; is the difference worth paying so much extra? For me, it wasn't, and we love our trash can.