okay I'm sorry.. I shouldn't have called you that. I take it back. I was feeling feisty.
Okay, lets take a moment to talk about DIY (do it yourself). It's become a huge thing and people who would never attempt things like this are suddenly drawn to the possibilities. Especially with sites around like
Etsy
where people can DIY their own little crafts and then sell it to people who STILL think they can't do it. Okay, in some cases, these things take actual and real talent that some people just don't have.
But the best thing about DIY is how much money you can save with it. When we first moved into our house we had VERY little furniture, and basically none of it matched. I found a GREAT bed for sale at JcPenney that was iron and black (and totally cheap as these things go). So then I needed some furniture to go with it. You have seen in a previous post about my great deal on a side table, but what I've never shown you is the rest of the furniture in the room. Most of it is DIY. We had aquired an old VERY outdated dresser from the hub's parents. Not only was it ugly, but it was not in the best condition. It had scratch marks and dents all over it. Still, there was potential. it was solid wood and had a great base foundation to work with. So feeling particularly handy and with the spirit of just embarking on home ownership upon us, we treked over to Lowes and bought a sander, paint, and then headed to Target for a cheap pack of knobs.
So we set to work, we sanded the crap out of it and then slathered it with primer and painted away. It took quite a few coats but was very do-able. Even for us inexperienced DIYers. When all was said and done and dry, we threw the knobs on and the dresser was transformed.
A picture is worth a thousand words so here is the process:
Before: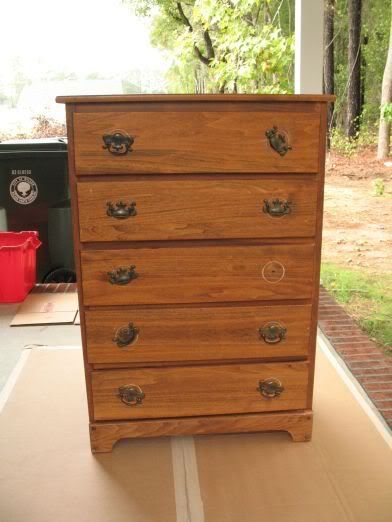 ewww!
in process: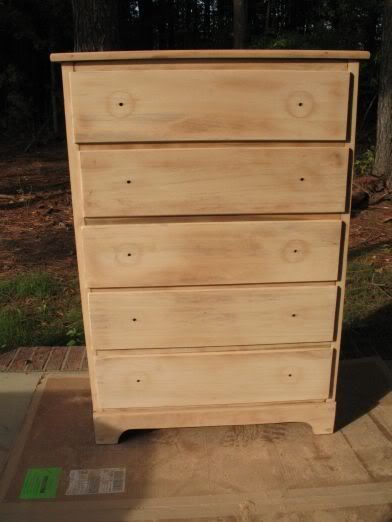 starting to see it...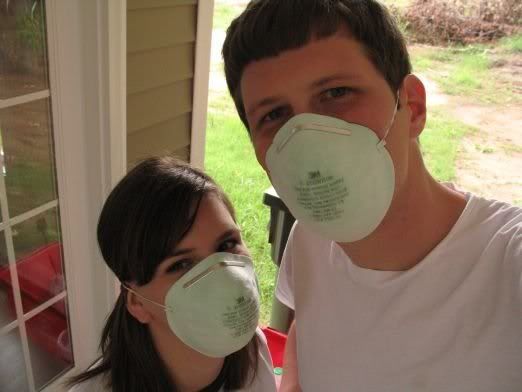 Don't we look like experienced DIYers here? Oh yeah.. so cool.
After: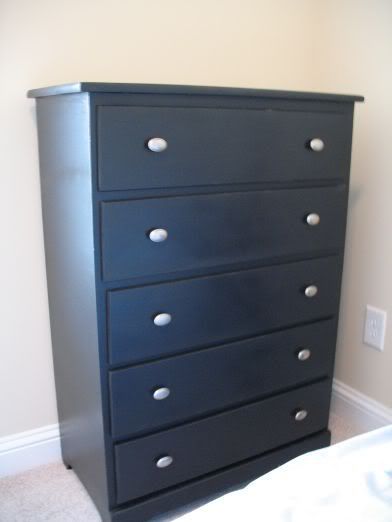 see our brand new dresser?? Totally transformed, wouldn't you say?
Here's a close up for the knobs we got in a money-saving pack at Target: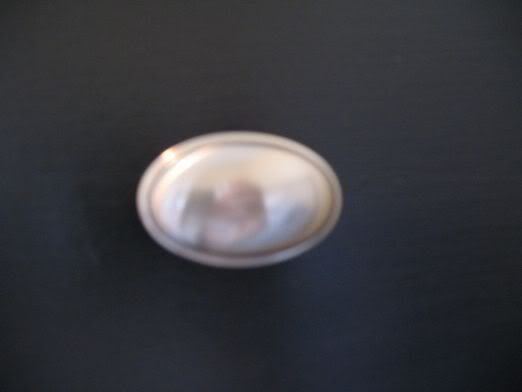 While we were at it we had an old coffee table the color of blonde wood that just did NOT go with my style anymore. We had aquired it for free somewhere or another. We decided to turn it into a bench for the end of the bed so we sanded and painted that sucker as well. I don't have any pictures of that process but it wasn't much different.
And here's how our little DIY projects fit in with the rest of the room: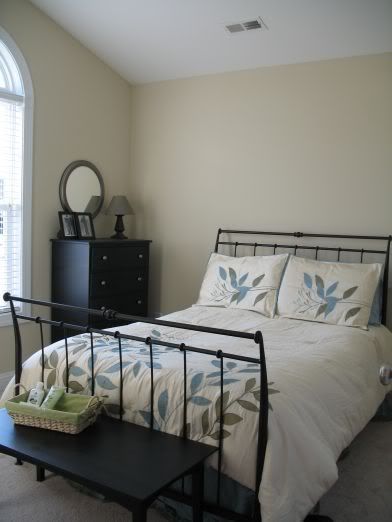 what do you think? pretty nice room for most of the furniture in there being free, wouldn't you say? All it cost was was a sander (which can be spendy but we plan on using it in the future as well.. if you are looking at just one project you may want to look into renting or borrowing) and paint and supplies. Much cheaper than brand new furniture.
Do you have any great DIY projects you'd like to share with me? e-mail me and share it!